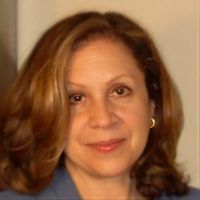 A native of New York, Claire grew up in Northport, long Island. Driven by early inclinations toward figurative art, and inspired by the Italian masters of the the Accademia di Belle Arti di Firenze where she graduated in 1978. She also has a certificate in Decoration & Design from the Accademia di Belle Arti di Roma, 1982.
Studies in Florence and Rome, cities immersed in the treasures of iconic art and architecture, accentuated Claire's artistic style, in that she instilled elusive realism into classical forms. Her earlier works appeared among group exhibitions for emerging artists in Florence, Rome, Bologna, and Milan.

In the three decades that followed her return to the U.S. in 1982, Claire's artistic career interacted with business initiatives (as partner-designer in a successful Atlanta-based architectural/interior design-consulting firm) adding a new direction and outlook to her artwork. However, her philosophical and instinctive relations with art as a means for visual exploration remained attached to her artistic roots where symbolism and realism often merge into one stream. This merging is noticeable in her recurrent themes, especially when she paints and sculpts the female figure as a symbol of mystery and sensuality, or when she depicts vibrant yet silent villages.
Claire's preferred painting method is the centuries-old indirect method but with the addition of charcoal delineation and hand smudging . . . She justifies the technique that being a sculptor at heart, her fingers achieve results that brushes cannot. Claire's artwork, mainly sold to the design trade, continues to be commissioned and collected in the U. S. and abroad, as well as sold at auctions and fundraising raffles for charitable causes.
Claire's passion for art extends beyond painting, sculpting, and design. In 2009, she created an academically oriented foundation-building program to teach the fundamentals of art: Masters in the Making Art Workshops®. The workshops embrace an age-old Italian academic proverb: in order for a student to learn to paint with a brush, they must first master the pencil.
For more information, Click

Claire lives in Suwanee, Georgia. She divides her time between working at her home studio and teaching art workshops at community learning centers, private schools, and senior living communities in the greater Atlanta area. In 2014, she held her first workshop in Italy: Infusing Culture and Art in Sicily. New workshops are planned for spring 2020.